We're excited to announce our 2020 conference!
March 23rd & 24th, 2020
The Conference Center at Waltham Woods, Waltham, Massachusetts
Convening a diverse group of professionals and subject matter experts in the field of work-related injuries, this meeting provides a unique forum to highlight the latest challenges in the work injuries as well as emerging, evidence-based solutions.
Shoulder, knee, and back injuries, among others, are significantly more challenging than their counterparts when related to work. Therefore, we are bringing together all the stakeholders that control or influence their care. Provocative discussions will take place among health care providers, workers' compensation carriers, attorneys, judges, and employers.
A sampling of attendees include occupational medicine physicians, surgeons, nurses, nurse practitioners, physical therapists, chiropractors, claims adjusters, clinical case managers, utilization reviewers, lawyers, court judges, and human resources professionals of medium to large employers.
I hope that you will join us for this not-to-miss event!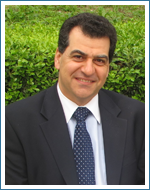 Tony Tannoury, MD
Meeting Organizer & President
Chief of Spine Surgery, Boston University
Center for Minimally Invasive Spine Surgery.
Occupational Health delivery is an art as much as a Science