Our 2022 conference was a success?
March 28th & 29th, 2022
The Conference Center at Waltham Woods, Waltham, Massachusetts
Dear colleagues,
We were so thrilled to finally be back together after a two year interruption!
It was so refreshing to engage and collaborate with all attendees of the meeting in a respectful and thought-provoking way. I truly believe this unique meeting allowed us to highlight many of the latest challenges in work injuries and the emerging, evidence-based solutions. It was a learning experience for all!
I want to personally thank our attendees for joining us after two years of cancellations and for sharing their insightful commentary over the two days. I also want to thank all of our dedicated exhibitors and sponsors, for whom this meeting would not happen without. They all spent an incredible amount of time preparing for the event and two days in the Exhibtor Hall answering many questions and demonstrating their techologies. I also need to take this moment to thank each and every one of our distinguished faculty members. I am honored to have such experts in the field of worker injury speak at this meeting each year, many familiar and many new. The information shared was truly invaluable. I thank you for your time. And lastly, I would like to thank our tireless Advisory Board members. This event was two years in the making and was a testament not only to their expertise, but also to their deep commitment to helping injured workers return to work.
I look forward to seeing you all next year, March 27th & 28th, 2023. Please save the date and look for more details to come.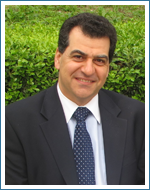 Tony Tannoury, MD
Meeting Organizer & President
Chief of Spine Surgery, Boston University
Center for Minimally Invasive Spine Surgery.
"Occupational health delivery is an art as much as a science."