2018 Brochure
What can you expect at this year's conference?
2018 Program Agenda - Announced!
Topics focus on the most current and pressing challenges facing worker injury
Teaching Library
Browse and download presentations from past events.
The conference was outstanding! I met so many people, learned so much, the food was fabulous, the speakers were real, funny and soooooo smart!
Sheila Wilson
Registered Nurse
I was blown away by the recent WC conference in Waltham…. It was wonderful to see that the recommendations I had made last year made it into the program this year.  The segments addressing alternative to opioid therapy were very well done.  It delighted me to see surgeons giving psychiatrists and psychologists a standing ovation!!!
Wendy Webster
Occupational Health Nurse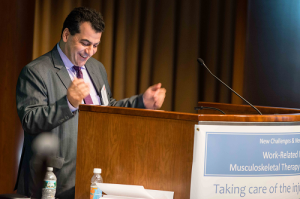 Chairman's Letter to Attendees
We are happy to announce the most awaited workers' compensation meeting of the year! The 2018 Work Related Injuries Workshop is quickly approaching and we want you to be a part of it.